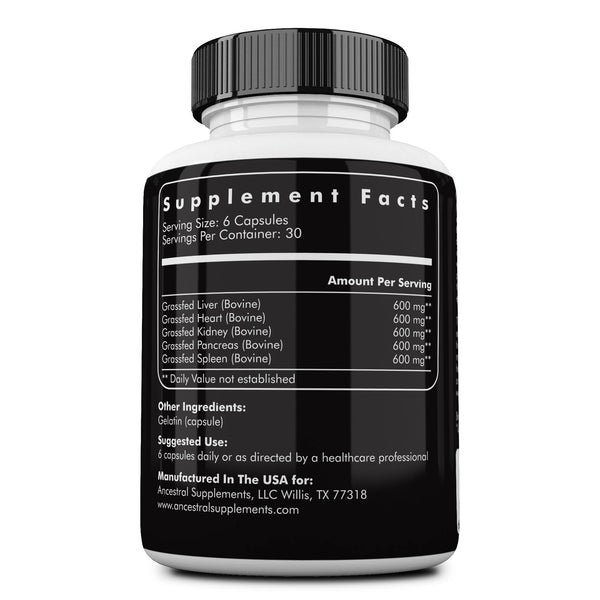 Grass Fed Beef Organs
Freeze-Dried New Zealand Grass Fed Beef Organs (3000mg)
• Grass Fed Liver (Bovine) 600mg
• Grass Fed Heart (Bovine) 600mg
• Grass Fed Kidney (Bovine) 600mg
• Grass Fed Pancreas (Bovine) 600mg
• Grass Fed Spleen (Bovine) 600mg
Other Ingredients: Collagen (Beef Gelatin) Capsules

Beef Organs (Liver, Heart, Kidney, Pancreas, Spleen) are high in...
• Preformed Vitamin A (aka retinol)
• Vitamin B12
• Coenzyme Q10 (also known as CoQ10)
• Bio-Available Heme Iron
• Selenium
• Enzymes
Beef Organs (Liver, Heart, Kidney, Pancreas, Spleen) support...
• Liver, Heart, Kidney, Pancreas & Spleen health
• Detoxification pathways
• Cardiovascular and mitochondrial health
• Immune health
• Collagen health
• Regulates energy metabolism.
• Enzymes for digestive health
• Overall health and wellbeing
• In addition to these benefits, high quality Beef Organs provide all the fat-soluble Vitamins (A, D, K and E) in highly usable forms, and also provides folate, copper, zinc, chromium and hyaluronic acid.
Grass Fed Bone and Marrow (Bone, Marrow, Cartilage)
Freeze-Dried New Zealand Grass Fed Whole Bone Extract (Bovine) 500 MG
• Grass Fed Bone Matrix
• Grass Fed Bone Marrow
• Grass Fed Cartilage
Other Ingredients: Collagen (Beef Gelatin) Capsules, Organic Rice Concentrate, Silica

Whole bone extract contains...
• Bone matrix, bone marrow and cartilage
• Nutrients exclusively found and expressed in whole bone extract.
• High concentrations of stem cells and base cells
• Collagen, growth factors and fat-soluble activators
• Glycosaminoglycans naturally present in bone matrix
• Bone marrow and spleen also contain high levels of a class of lipids known as alkylglycerols (AKGS for short). AKGS serve as powerful immune system boosters.

Whole bone extract supports...
• Bone health (bones, marrow and teeth)
• Connective tissue health (ligaments, tendons, cartilage, skin)
• Dental health and immune health
• Supports and repairs cellular damage