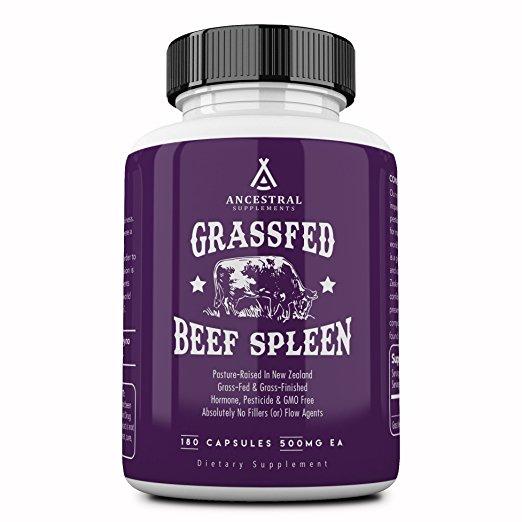 Grass Fed Beef Spleen
Freeze-Dried New Zealand Grass Fed Spleen (500mg)
Other Ingredients: Collagen (Beef gelatin) Capsules
Beef Spleen contains.... 
Proteins Exclusively Found and Expressed in Spleen Tissue 
Unique Peptides Such as Tuftsin & Splenopentin To Support Immune Health 
Spleen Extracts & Splenin Further Support & Modulate the Immune System 
Immunologically Active Proteins Shown to Stimulate Macrophages & Enhance Natural Killer (NK) Cell Activity*
Spleen and Bone Marrow also contain high levels of a class of lipids important in cell membranes known as alkylglycerols (AKGs for short). AKGs serve as powerful immune system boosters, helping fight infectious disease and even treatment resistant conditions to allopathic medicine. If you want to know more about this fascinating compound, try Googling "Dr Astrid Brohult discovers AKGs effectiveness in treating children with leukaemia.
NOTE: In the 1930s, spleen extract was shown to improve white blood cell counts as well as benefit infections... while in modern-day Germany, spleen extract has increased in use for its immune-potentiating effects. *
Beef Spleen supports... 
Optimal Spleen Health Based On "Like Supports Like" 
Immune System Health
Inflammatory Health 
Digestive Health (this is widely recognized in Traditional Chinese Medicine) 
Blood Health With 12.5 MG of Glandular Derived Heme Iron Per Ounce 
NOTE: According to The Encyclopaedia of Natural Medicine (Third Edition) by Pizzorno and Murray, spleen extract may be used to support immune related health conditions ranging from autoimmune health, inflammatory health, blood health and more.